Video Resume: 3 Steps on How to Create a Video Resume
How do I create a video resume that helps me stand out in the job search when I may not be very good at video editing or speaking on camera?
Today you'll learn how to build a video resume without having to talk on camera and without having editing skills.
I'll show you how to put together the six parts of your script, how to edit it within a few hours, and then send it to every company you apply to.
As someone who has interviewed thousands of people, I believe I've only seen one candidate ever give a video resume.
And it was passed around the office, people were watching it. Simply put, this is a way to stand out. No one is doing this stuff and stay to the end.
What is the purpose of having a video resume?
It is to break up the monotony of the same old thing. I have employees who call me over and check out this candidate who created this video, sang this song, wrote this letter. "It's really anything that helps you to stand out among the pack.
A video resume is absolutely not going to guarantee that you will get an interview, but it really helps you to stand out. So take that advantage.
Make no mistake, you still need a killer resume and I have a Resume Builder to help you build that amazing standout resume.
So I will link that in the comments and in the description. If there is a waitlist, make sure you sign up to get on the next class.
You may also read: ats friendly resume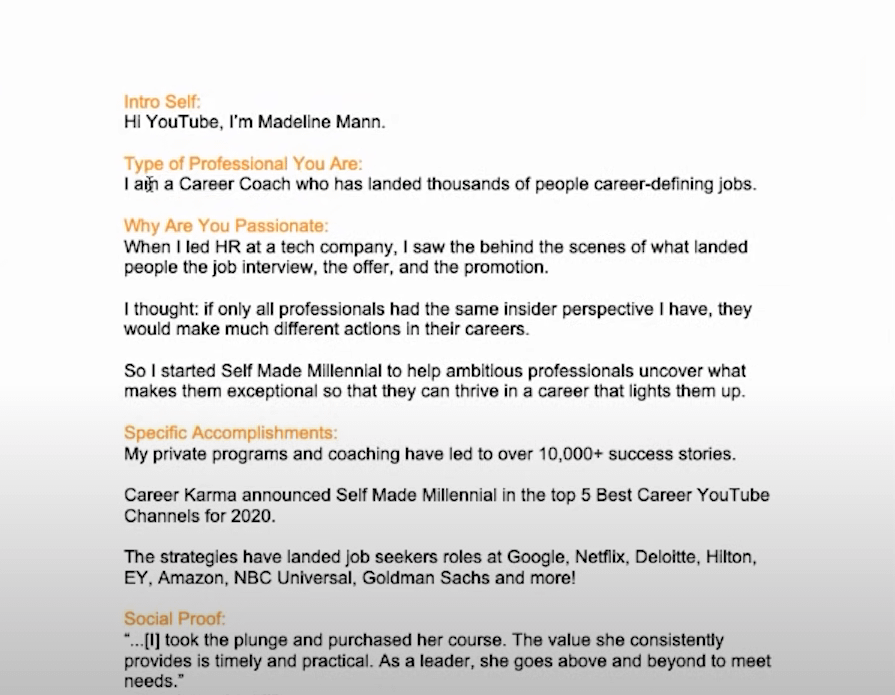 What are some of the attributes of a great video resume?
Make it customized. Now, this sounds like a huge lift, but it actually isn't if you follow my steps.
I recommend not outsourcing the video editing so that you can make these quick edits for different companies that you want to apply to.
I'll show you a free tool to use, it's called InVideo, which is a lot like the video editing version of Canva where they have all these professional-looking templates that you can use to make really sleek videos using their stock footage.
You should read this: 5 Resume Mistakes To Avoid To Get into a Job Interview
So it ends up coming out looking really professional video, but with almost no skill involved. Also, avoid talking on camera if you're a little awkward or you don't have the right equipment.
Trust me, I was awkward speaking on camera for a very long time. And if you don't believe me, I will link my bloopers in the comments and you'll see.
So the approach I'm going to teach you relies a lot on text, music, stock footage so that you don't need to focus on being a superstar on camera.
Alright then let's walk through the six parts of your script. Then I will show you a sample script.
And then we'll walk through how to build out your video resume. Let's dive in. So the six recommended sections to your script are: introduction, the type of professional you are, why you're passionate or interested, accomplishments, social proof and closing.
If you have nothing to say for some of these, absolutely leave it out. I'm just trying to give you lots of options.
Let's walk through an example script with these in action. But before we do, just a side note, make sure this video ends up being between 30 and 90 seconds. You go longer than 90 seconds, I'm telling you, these people have the stuff to do, and they can't sit there watching a feature-length film of your resume.
The first thing you'll want to do is to write your script, a nice concise script. So first, you wanna start off by introducing yourself and the first thing you wanna do is also say the name of the company that you're pursuing.
You want them to know up top that you are giving them special attention. So this is really helpful.
Then say what type of professional you are. I'm using career coach as an example here for this. But this can be really whatever your profession is.
If you're a nurse or let's say you're not in that profession yet, you're still aren't that type of professional.
So you could say, I'm an up and coming nursing professional, something like that.
So why are you passionate?
So with this section, I think it's important to, ideally, if you want to customize it to each company, you could write about why are you passionate about that company, that's going to be really compelling.
But I think a lot of you might want to do an approach that is a little bit more plug and play where you can use across lots of companies. So you have learnt how to show that you are passionate about what you do.
Now, why this section is so important is because on your resume, we don't really get to see why you're passionate. So then you'll want to give specific accomplishments. We're not doing buzzwords here, we're not saying, you know, collaborative, right?
We're saying that we are getting results. So I listed three accomplishments here. Then it's really great if you can have social proof. So if someone's written a recommendation or a letter of recommendation either like on your LinkedIn profile or elsewhere, you could take a quote from that and put it in your video.
And finally, have a closing of say, you know, the company's name again and talk to you soon. So notice that really just the intro and the outro are the only parts that are customized here.
But I do encourage you to customize more. Let's get to build our video resume. And there's a lot of different ways to build your video resume on here.
InVideo is just so easy on this platform. That's why I'm really recommending it. So you can choose the format that you want to use.
I do recommend for this we should use a YouTube landscape. You can either use a lot of their pre-made templates, they have even a template for a video resume.
So you can just type that in and grab it. Then you can also do an article to a video where you can basically paste in that script that we just said, and it puts something together for you.
Or you can just start from a blank template and use all of their cool features. So before we jump into there, I just wanna make sure that you are gonna save so much time if you go over here first to branding pre-sets and set your colours and set your typeface so that for every presentation, every video you create is going to have the right colours that match what is your preference.
There we go, that's more like it and then hit Save. So when you can come back here you can search video resumes and they do have some that are great video resumes you can check them out here.
But I'm going to do an article to video because it is just so darn easy and we already have our script written. So I will just go ahead and choose one of their templates and go for it.
Then we will add our script here and paste it. And I typically like to uncheck this box. Magic, we now have all of these different sentences ready to go.
And so now let's edit them further. Let's make this first one my face. And I recommend you do this as well that you make your first one a picture of you.
Like I said before, I'm not gonna have you add your own video. So this is just great for them to see your face. Let's adjust it to be up here.
You can do any colour grading if you like and use beautiful filters to give it a cinematic view. Hope this article helped you. If yes, then starting building your video resume now. See you in the next article.
FAQs
Are video resumes effective?
Yes. It lowers the chances of faking.
What should you not do in a video CV?
1. Not preparing properly. Not bothering to prepare before you press the record button could result in a sloppy, unstructured video that will leave potential employers unimpressed.
2. Using an inadequate camera.
3. Filming against a busy background.
4. Presenting yourself poorly.
5. Not selling yourself.
How to end video resume?
Focus on the company at the end of your video. Tell them why they should hire you instead of someone else. Tell them what you'd be able to add to their company. Tell them you're enthusiastic about the role's prospects.