3 Free Tools for Your Resume to Beat the ATS
Hey everybody, it's Deepak back for another week to help you build a career you love. Today, I've got something for all of you who are struggling with getting your resume passed the dreaded applicant tracking system, and I'm gonna tell you about one of my mile walk Academy members Jill, who struggled for five months.
Two weeks ago used this exact same formula, changed her resume, used the tools, and has had four interviews in the last two weeks.
So let's, I want to take a peek over my shoulder. I want you to take a peek over my shoulder. Let's take a look at Jill, and those three tools.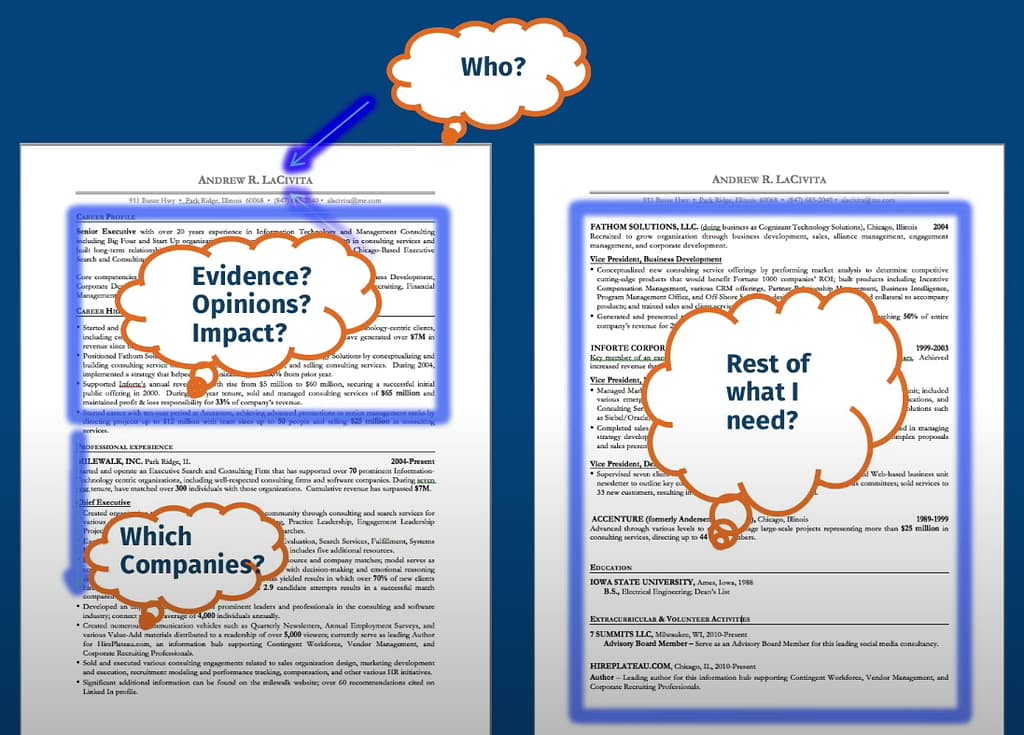 Let's get you passed that applicant tracking system. As I mentioned one of our mile walk Academy members Jill, used this exact formula I am about to give you. I switched my resume format from the one on the left to his format on the right literally two weeks ago.
You may also read: Resume For Internship: How To Write A Resume With Little or No Work Experience
She said, she has been looking for a job since May, which was five months ago, and she had one interview last week, another yesterday, as well as two interviews today, and one said they are making me an offer, and the other has me setup fora second interview on Friday.
Let's talk about the three different tools. The first tool is actually a webinar I created last year. It's called Three Secrets to Get Your Resume Noticed.
What they're looking for. The kind of information they're hoping to find, and as a matter of fact, I have another blog that some of you might have seen called 5 Resume Mistakes To Avoid To Get into a Job Interview. That's another great supplement to this, but I go into much more detail in this hour-long webinar. I show you exactly how somebody looks at this, what they're looking for, ways to prove your value, what the content is that you should have in your resume so that it'll be exciting.
You must read it: 10 Best Resume Fonts For Resume Writing: Standard Size Font
My Resume Builder
The second tool I give you is actually a wonderful download that you can get at the end of the blog, it's called My Resume Builder. It is a template, a content guide. It is completely designed for you to include all the right information in the right layout in your resume, so just to kind of take a quick look.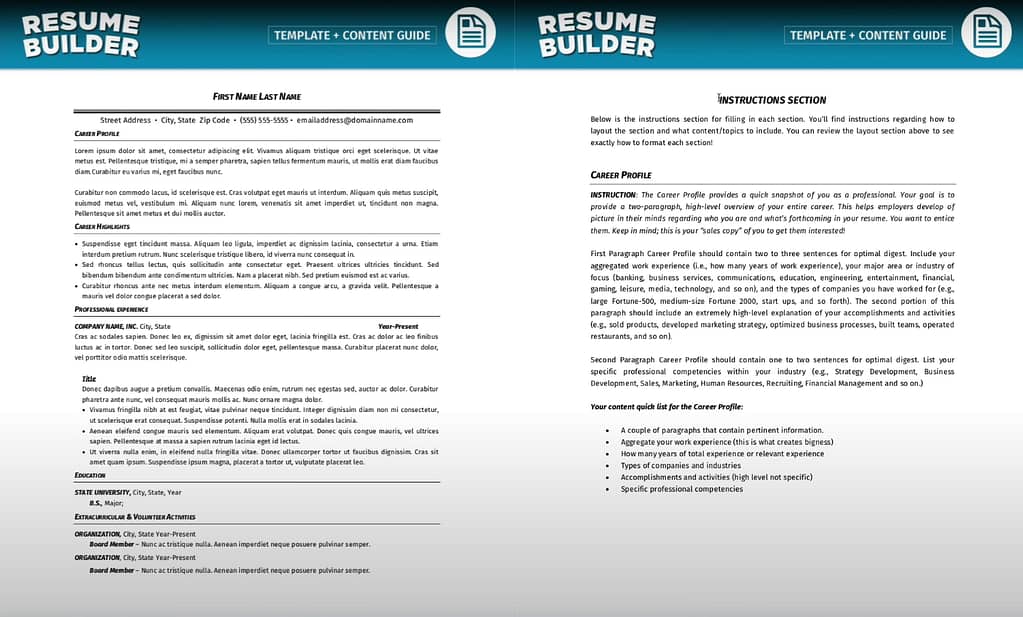 Over, in the beginning, you get these nice instructions on how to use the guide. Over on the left, here's a sample resume layout. Then what's really nice is I go through each section of the resume. I talk about it, I tell you what it is.
I tell you the type of content to include, and then what I do, toward the end I have an achievements journal in here. There are actually 14 key pieces of information that I tell you. This is the kind of information that you should use, and capture on each one of your projects, so you can tell wonderful stories in your resume, and in the job interview.
The rest of the booklet has all the rest of that information, but it's a really wonderful tool that I give away for free for anyone who attends the webinar. It's aiming at helping you punch up that resume.
Read before scrolling: 5 Proven Strategy to Write a Winning Resume
Job Scan
And then the third tool that I would recommend is Jobscan. And what I would do here is you can actually go into this tool. Put a copy of your resume right in there. I've just taken an old resume of mine, and put some content in there for illustrative purposes, and then I grabbed a job description.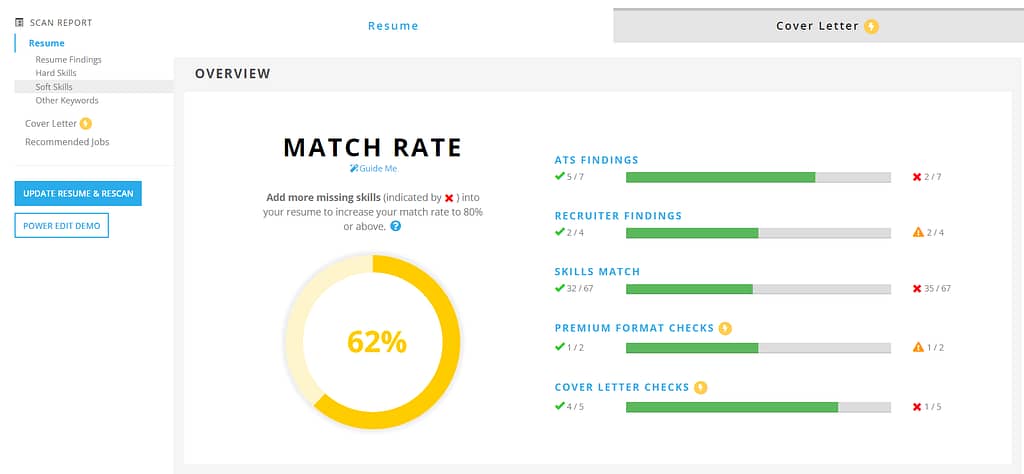 What you can do is you can actually take the job description, copy it, head over to Jobscan, paste it in there.
Okay, you can see I'm not a very good match for this role. However, the most important thing just for illustrative purposes, this will show you that your skill and keywords match. Your job title match.
Education:
It will also give you some ATS tips. I'm gonna go into this in a second.
Word count.
All this good stuff, and will help you better align your resume to the job that you are looking to apply for. And we know that this is Starbucks 'cause I enjoy their coffee.
And also what you can do after you save that is you can actually add an address for the job description, and it will tell you what the applicant tracking system is that the company is using if it knows, and what that will do is it will give you some extra tips of what to do, and not to do on your resume.
If you were looking at this particular role, they use Taleo, it's a very common applicant tracking system.
What is Taleo?
Taleo has got certain preferences that Jobscan will show you. Make sure that you're using the right format. Don't use any charts or heavy graphics. It does not like abbreviations like PNP. Or it does not recognize common abbreviations, so you're better spelling out Project Management Professional or Certified Public Accountant.
These are wonderful little nuances that are really nice for you to know. Jobscan will let you create a free account. You can use this for 30 days.
But this is another tool that I would highly recommend. It goes … It hard skills, the soft skills, other keywords that it might be looking for, and it gives you some kind of idea of how you're going to match up, and then obviously the goal is to increase this number.
All right, so now you've seen the three tools. Just to recap, check out Three Secrets to Get Your Resume Noticed. Take the resume content builder, take this little workbook. It's got everything you need to put a great resume, a very powerful resume together. Then run it through Jobscan as you apply to these positions.
Whether you're using them right off the company's website, and you're submitting your resume there. Or whether you're using the different job boards like Indeed, or Hot Jobs, or Yahoo, whatever it might be the formula works. All right, if you are loving this, make sure to give me the thumbs up.
FAQs
What is ATS (Applicant Tracking System)?
Employers and recruiting managers use applicant tracking systems as electronic gatekeepers. The ATS divides the content of a resume into categories and then scans it for certain keywords to determine whether the job application should be forwarded to a recruiter.
Why an ATS is Used?
An applicant tracking system, often known as an ATS, is a software solution for managing all aspects of recruiting and functioning as a data bank for all hiring procedures. As the name implies, an applicant tracking system (ATS) allows for automated applicant tracking and the storage and processing of large amounts of data.
What is a good ATS resume score?
Any score above 80% is good to increase your chances of passing the ATS screening. Maximum possible match score is 100%.
Is 2 column resumes ATS friendly?
No.