Top 5 AI Resume Builders Available in the Market
Hello everyone,Welcome to my new blog.
In today's blog, I am excited to share with you the most outstanding 5 AI resume builders currently available in the market. These incredible tools are not only ATS Free, but they also significantly enhance your chances of having your resume discovered by recruiters through their powerful boolean searches. Get ready to take your job search to new heights!
In today's cutthroat job jungle, having a resume that packs a punch can be the secret sauce for landing that dream job of yours. We all know crafting a resume that outshines the rest can feel like wrestling with a wild octopus! But fear not, my friend, for I shall guide you through this treacherous resume-making maze. Let's write a masterpiece that will make employers chuckle and beg for your awesomeness!
Fortunately, with the advent of Artificial Intelligence (AI), the process has become more streamlined and efficient. AI-powered resume builders have revolutionized the job application process, offering innovative solutions to help job seekers create outstanding resumes.
Today, I am thrilled to share with you the most remarkable 5 AI resume builders that are revolutionizing the way we tackle the art of resume writing.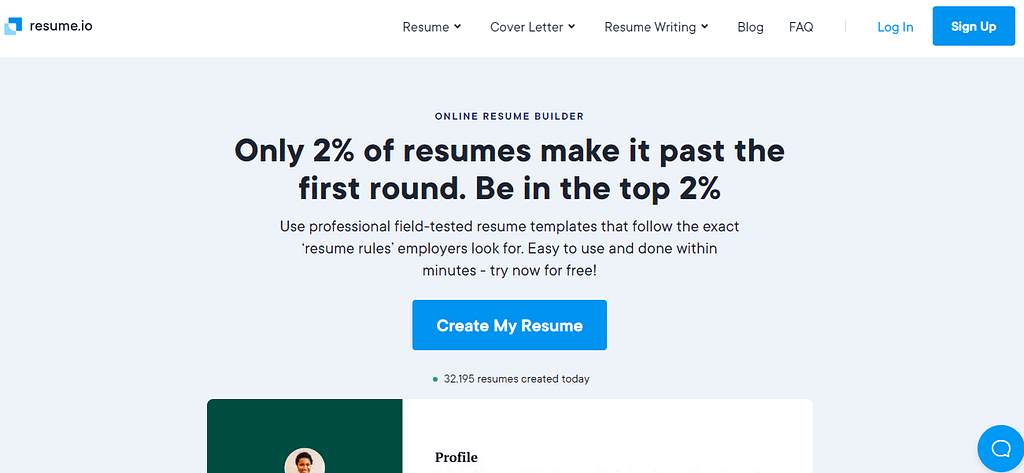 First on our list is Resume.io, an AI-powered resume builder that provides a user-friendly interface and a wide range of customizable templates. With Resume.io, users can easily create professional resumes in a matter of minutes.
The AI technology employed by Resume.io analyzes the content entered by users and offers suggestions for improvement, ensuring that every resume is optimized for success.
One of the standout features of this platform is its AI-driven keyword optimization tool, which helps applicants tailor their resumes to specific job descriptions, increasing their chances of passing through applicant tracking systems (ATS).
Resume.io also offers expert advice on resume writing, guiding users to effectively highlight their skills and experiences.
Next up is Zety, an AI resume builder renowned for its sleek and modern designs. Zety offers a wide range of eye-catching templates that can be customized to suit individual preferences.
The AI technology embedded within Zety provides users with real-time feedback and suggestions, ensuring that their resumes are of the highest quality.
Zety's AI-powered content analysis helps users identify areas for improvement, such as missing information or formatting errors.
Furthermore, Zety's keyword optimization feature enables job seekers to tailor their resumes to match specific job requirements, boosting their chances of getting noticed by employers.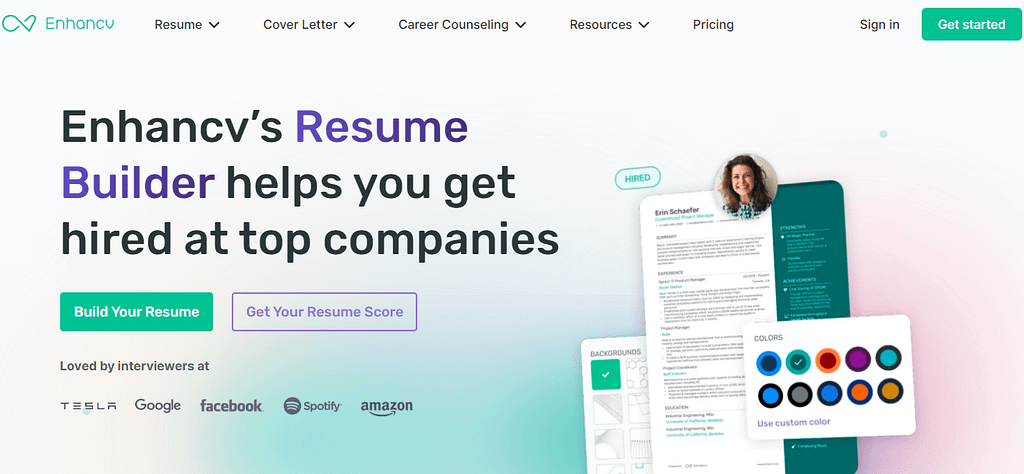 Enhancv is another notable AI resume builder that focuses on creating visually appealing and engaging resumes. With a wide range of customizable templates, Enhancv allows users to showcase their skills and experiences in a visually appealing manner.
The AI technology employed by Enhancv provides users with personalized recommendations on content, design, and formatting, ensuring that each resume is optimized for maximum impact.
The platform's interactive features enable job seekers to easily navigate through the resume creation process and create resumes that capture the attention of recruiters.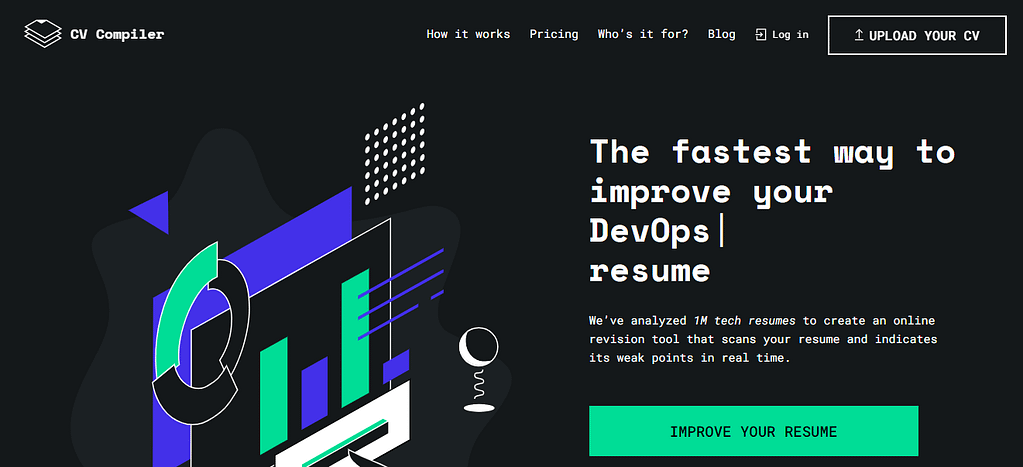 CV Compiler is an AI-powered resume builder specifically designed to analyze and optimize technical resumes. It caters to professionals in fields such as software development, data science, and engineering.
The platform's AI algorithms analyze the technical content of resumes, providing valuable insights and suggestions for improvement.
CV Compiler helps users identify and rectify any technical gaps or inconsistencies in their resumes, ensuring that they present their skills and expertise in the best possible light.
This tool is highly beneficial for technical professionals aiming to showcase their proficiency in specific programming languages, frameworks, or tools.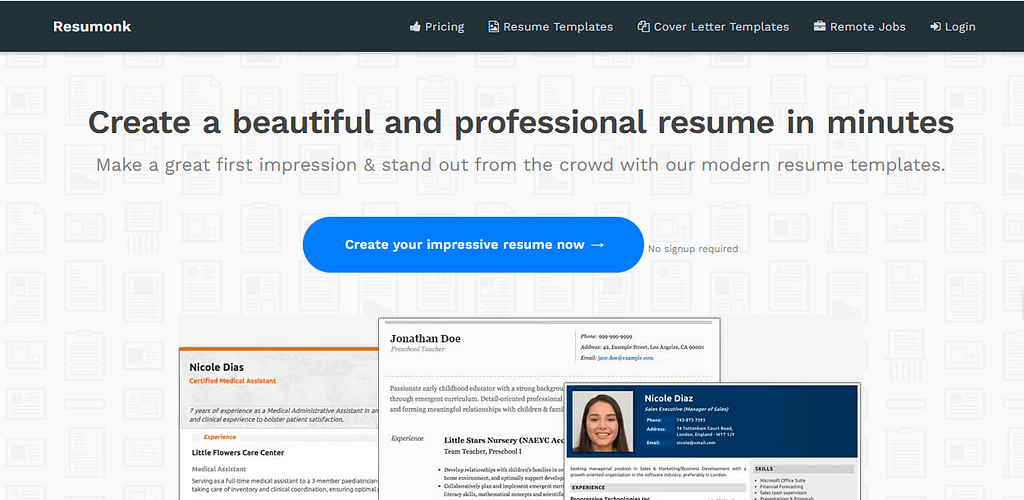 Last but not least, Resumonk is an AI resume builder that offers a seamless and intuitive user experience. The platform provides users with a wide variety of customizable templates and formats to choose from, ensuring that each resume is unique and visually appealing.
Resumonk's AI technology analyzes the content of resumes and offers suggestions on how to improve the overall quality and effectiveness.
The platform also provides a feature for tracking the performance of resumes, allowing users to monitor the number of views and downloads their resumes receive.
Resumonk is a comprehensive tool that simplifies the resume-building process and maximizes the chances of success for job seekers.
What do I Think About AI Resume Builders?
According to me, AI resume builders have revolutionized the way we create resumes, making the process more efficient, effective, and user.
With the help of AI-powered resume builders like Resume.io, Zety, Enhancv, CV Compiler, and Resumonk, job seekers can now create professional and visually appealing resumes that are optimized for success.
These platforms leverage AI technology to analyze and improve resume content, provide personalized recommendations, and optimize keywords to increase the chances of passing through applicant tracking systems.
Whether you're a technical professional or seeking a creative role, there is an AI resume builder tailored to your needs.
By harnessing the power of AI, job seekers can save time and effort in crafting their resumes while ensuring that they stand out in a competitive job market.
These innovative resume builders not only offer convenience and efficiency but also provide valuable guidance and insights into resume writing. As technology continues to advance, we can expect even more advancements in AI-powered resume builders, enhancing the job application process further.
In conclusion, AI resume builders have transformed the resume creation process, empowering job seekers to create outstanding resumes that catch the attention of recruiters.
With their user-friendly interfaces, customizable templates, AI-driven content analysis, and keyword optimization features, platforms like Resume.io, Zety, Enhancv, CV Compiler, and Resumonk are revolutionizing the way we approach resume writing.
As the job market becomes increasingly competitive, leveraging AI resume builders is a smart choice to enhance your chances of securing your dream job.
I hope you have read the complete blog and got a lot of information. Thank you for reading.