If you are planning to create your resume then Resumenerd is an excellent resource for individuals like you who are seeking to create a professional and impactful resume.
With Resumenerd, you can easily build a customized resume tailored to your specific career goals. The platform offers user-friendly templates, formatting options, and content suggestions to guide you through the resume creation process.
But I would suggest writing your resume on your own and taking help from an online site. Just don't copy-paste the exact skills and responsibilities which doesn't match your expertise.
There are also some AI resume builders available in the market which provide similar services, you should consider them as well.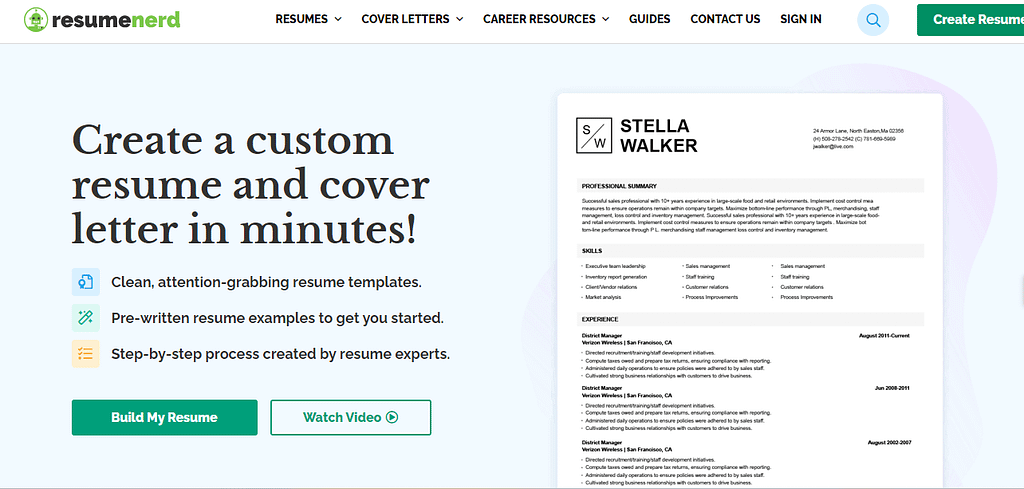 How to Create a Resume with Resumenerd?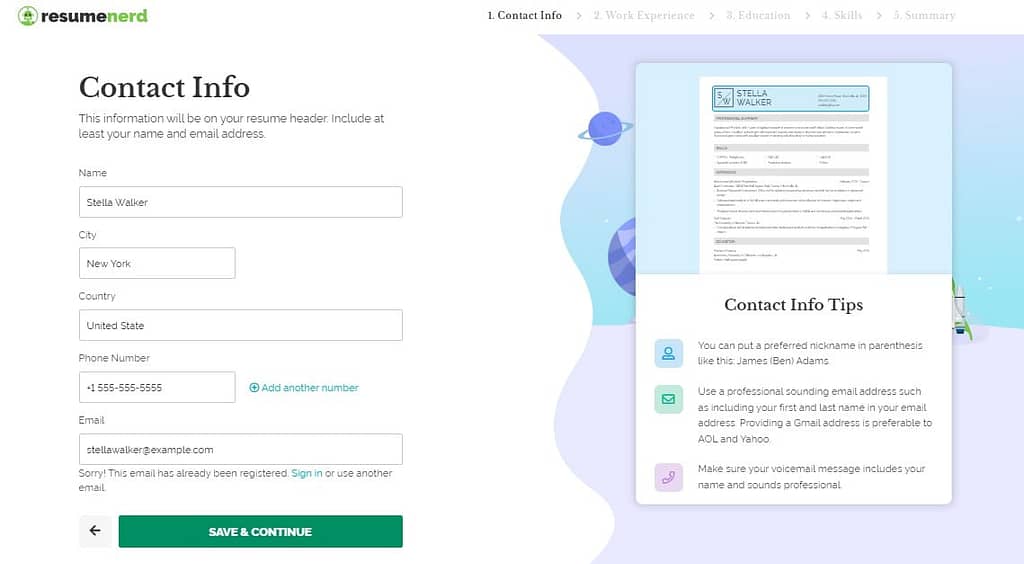 Visit the Resumenerd website and sign up for an account. You'll typically find a "Sign Up" or "Get Started" button on the homepage. Provide the required information, such as your name, email address, and password, to create your account.
Choose a template. Resumenerd offers a variety of professionally designed templates to suit different industries and career levels. Browse through the template options and select the one that best fits your style and preferences.
Input your information. Resumenerd provides an intuitive interface where you can enter your personal details, including your contact information, work experience, education, skills, and any additional sections you want to include, such as certifications or projects. Follow the prompts and fill in the relevant sections accordingly.
Customize your resume. Resumenerd allows you to customize various aspects of your resume. You can adjust the font style and size, choose different colors or color schemes, and modify the layout to make your resume visually appealing and unique. Experiment with different options until you're satisfied with the overall look.
Add content: Resumenerd provides pre-written bullet points and job descriptions for different industries, making it easier for you to highlight your achievements and responsibilities effectively. Select the most relevant points and edit them to accurately reflect your experience and accomplishments.
Proofread and finalize. Before finalizing your resume, carefully review the content for any errors or typos. Resumenerd may offer built-in spell-check and grammar-check tools to help you ensure that your resume is error-free. Make any necessary corrections and adjustments to ensure your resume is polished and professional.
Download and save your resume. Once you're satisfied with your resume, you can download it in various formats, such as PDF or Word. Save a copy of your resume on your computer or in cloud storage for easy access.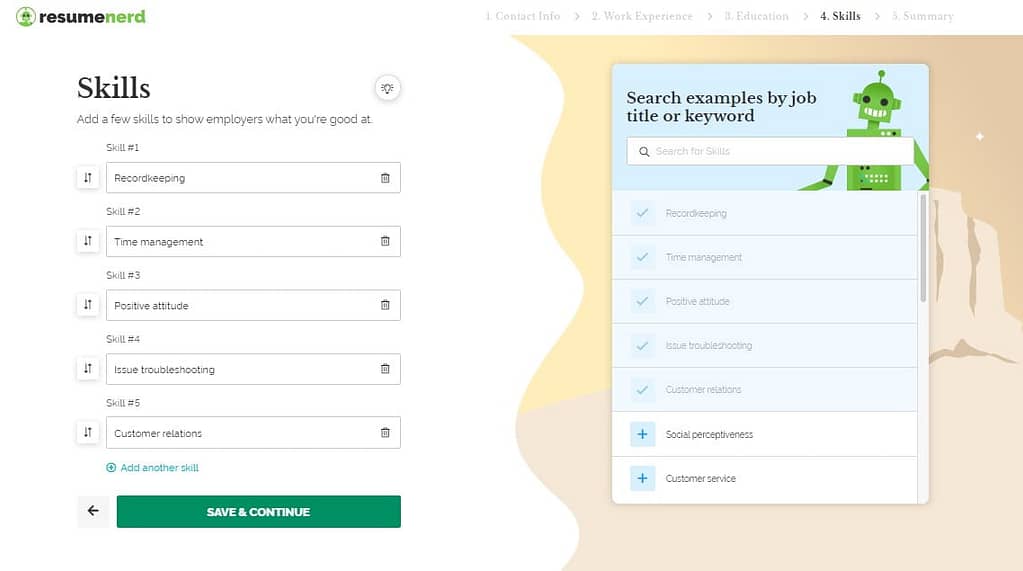 Resumenerd Pricing
ResumeNerd offers various pricing options to cater to different user needs. Here is an overview of the typical pricing structure:
Free Account: ResumeNerd provides a free account option that allows users to access basic features. With a free account, users can create and download a basic resume. However, some advanced features and templates may be limited or unavailable.
Premium Subscription: ResumeNerd offers a premium subscription for users who want access to additional features and resources.
The pricing for the premium subscription varies depending on the subscription duration, such as monthly, quarterly, or annual plans. The premium subscription typically provides benefits such as:
Resumenerd Premium Subscription
Full access to all resume templates: Premium subscribers can choose from a wider range of professional templates tailored to different industries and career levels.
Unlimited downloads: Premium subscribers can download their resumes in various formats without any restrictions.
Cover letter and additional document templates: ResumeNerd may provide a collection of cover letter templates and other document templates, assisting users in creating a comprehensive application package.
Priority customer support: Premium subscribers often receive priority customer support, ensuring prompt assistance with any inquiries or issues.
How to Cancel ResumeNerd Subscription?
Visit the ResumeNerd website and log in to your account using your credentials.
Look for a section or link related to account settings, subscription management, or billing.
Navigate to the subscription or billing settings page. This page should provide information about your current subscription and options to manage or cancel it.
Locate the cancellation option. Depending on the Resumenerd website layout, there may be a "Cancel Subscription" button or a similar option.
Click on the cancellation option, and you may be prompted to provide a reason for canceling. Select the appropriate reason or simply proceed with the cancellation process.
Follow any additional instructions provided on the screen to complete the cancellation process. ResumeNerd may require you to confirm your cancellation or provide feedback.
Verify the cancellation. After completing the cancellation process, double-check your account or email to ensure that your subscription has been successfully canceled. ResumeNerd may send a confirmation email or provide a notification on the website confirming the cancellation.
Conclusion
With Resumenerd, you'll be able to input your personal information, work experience, education, skills, and more with ease.
The platform provides pre-written bullet points and job descriptions for various industries, helping you effectively showcase your accomplishments and responsibilities.
Additionally, Resumenerd offers guidance on proper resume structure, grammar, and formatting, ensuring that your final document looks polished and visually appealing.
Resumenerd Reviews
Omar was a great help getting me signed back into my old account. I have been very fortunate to have Omar who has been the assistant that has answered my calls and has helped walk me through many difficult steps to get where I needed to be. Very professional and polite and always gives me his 100 percent plus more. He has made my day once again. Thanks Omar I truly appreciate all your help.

Sandy Power
Omar was so nice to me explaining about all the features and plans you guys are providing to us. The best part is we can cancel it anytime.

Sonika
I called in because I totally forgot that the renewal automatically charged my account. It wasn't something that I was entirely prepared for. I got connected with Mr. Omar right away. He listened to my concern, helped me understand the special offer that I missed while cancelling. Turns out I didn't need to cancel with the special offer, which is awesome because Resume Nerd helped me mail the job that I currently have.

I appreciate Omar's patience and understanding with my situation. He was very accommodating and didn't make me feel like an idiot in the process which I value greatly.

Jusitn Wright
FAQs
How to cancel Resumenerd Subscription
Enter your ResumeNerd username and password to access your account.
Click the user icon, then "Manage Account" in the top right corner of your screen, next to the notification bell.
Select the "Cancel Subscription" option.