Looking to post a job on Monster? You're in the right place. Monster offers a powerful platform for employers to post job openings and connect with a wide range of potential candidates.
In this article, we'll take you through the steps to post a job on Monster, utilizing the full potential of our platform to attract top talent and enhance your recruitment efforts.
What is Monster?
Monster is a job posting and recruiting platform that offers over 2,000+ prebuilt job descriptions that help attract the right candidates for a job.
Monster has products like job posting, resume search, finding candidates, recruiting services, software, and data solutions.
It's completely different from posting free job on LinkedIn or any other job posting platform. It provides a ton of features for job posting depending on the packages, which we will see later in this post.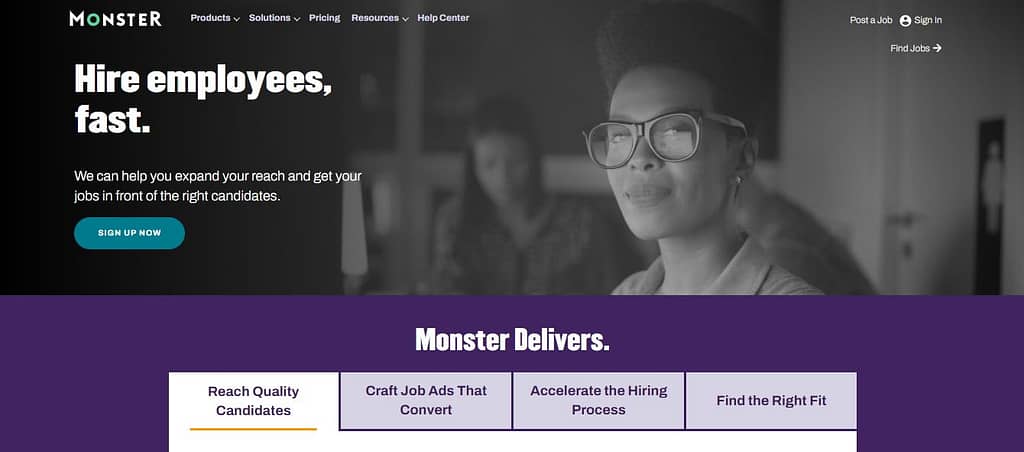 How to post a job on Monster?
I can guide you through the process of posting a job on Monster. Please note that the steps may vary slightly based on any updates made to their platform. Kindly follow the below steps to post a job on Monster without any issues.
Time needed: 4 minutes
You can start or stop job posting anytime on Monster.
Visit the Monster Website

Go to the Monster website (www.monster.com) using your preferred web browser.

Create an Account

If you don't have an account on Monster, you'll need to create one. Look for a "Sign Up" or "Register" button on the website's homepage and follow the prompts to create an account.

Log In

After creating an account, or if you already have one, log in to your Monster account.

Navigate to Job Postings

Once logged in, look for a section that allows you to post jobs. This might be labeled "Post a Job" or "Employer Services." Click on it.

Choose a Job Posting Package

Monster offers different job posting packages, some of which might be free or require payment. Choose the package that suits your needs.

Provide Job Details

Fill in the details about the job you want to post. This includes the job title, job description, location, industry, type of employment (full-time, part-time, etc.), required qualifications, responsibilities, and any other relevant information.

Add Company Information

You'll likely be prompted to provide information about your company, such as its name, size, industry, and a brief description. This helps potential candidates learn more about your organization.

Set Application Options

Specify how candidates should apply for the job. You might be able to include a direct application link, an email address, or instructions on how to apply.

Review and Preview

After filling in all the necessary details, review your job posting for accuracy and completeness. Many platforms, including Monster, often offer a preview option that lets you see how your job listing will appear to job seekers.

Payment (if applicable)

If your chosen package comes with a cost, you'll need to provide payment information at this stage.

Submit the Job Posting

Once you're satisfied with the job listing, click the "Submit" or "Post Job" button to make your job posting live on Monster's platform.

Review and Edit (if needed)

After posting the job, you might receive confirmation and have the opportunity to edit or update the listing if necessary. Some platforms also offer options to extend the duration of the posting.
Remember, the specific steps and options might vary slightly based on any updates or changes to Monster's platform. If you encounter any difficulties or have questions during the process, Monster's customer support or help center should be able to assist you.
Monster Job Posting Pricing
There are 3 packages for job posting on Monster, Monster+, Standard Upgrade, and Premium Upgrade. Each package has different features and allows contrasting numbers of job postings.
I recommend visiting the official Monster website or contacting their customer support for the most up-to-date and accurate pricing information.
Pricing for job postings on Monster can vary based on factors such as location, job type, duration of posting, and additional features you might want to include.
Monster often offers different packages to cater to various needs and budgets.
Pros and Cons of Monster Job Posting
| Pros | Cons |
| --- | --- |
| Large User Base: Monster is one of the oldest and most recognized job search platforms, attracting a vast number of job seekers. | Competition: Due to their popularity, your job postings might face competition from other employers, particularly in competitive industries. |
| Diverse Job Categories: Monster covers a wide range of industries and job categories, making it suitable for various types of job openings. | Quality of Candidates: While Monster has a large user base, the quality of candidates can vary. |
| Global Reach: If you're looking to hire internationally or across multiple locations, Monster's global presence can be advantageous. | Cost: The pricing for job postings and additional features can be relatively high, particularly for premium packages. |
| Brand Recognition: Posting on a well-established platform like Monster can enhance your company's reputation and employer branding. | Generic Applications: The ease of applying to jobs on Monster can lead to a higher number of generic applications from candidates who may not be genuinely interested in your specific job. |
| Advanced Search Filters: Job seekers can use advanced search filters to find jobs that match their preferences, which can help attract candidates with a higher degree of relevance to your job openings. | Limited Local Focus: While Monster has a global reach, its effectiveness can vary by region. It might not be the best choice for hiring in certain local markets. |
| Candidate Management Tools: Monster offers tools for managing applications, communication, and scheduling interviews, which can streamline your hiring process. | Saturated Industries: In some industries, Monster might be more saturated with job listings, making it harder to stand out. |
| Resume Database Access: Depending on the package, you might get access to Monster's resume database, allowing you to proactively search for candidates based on specific criteria. | Lack of Niche Focus: Monster's broad focus might not be ideal if you're looking for candidates with very specific skills or qualifications. |
FAQs: Post a job on Monster
How does the Monster Free Trial work?
Choose between the Standard or Premium options and begin your journey with a complimentary 4-day trial. During this trial phase, you can publish job listings without any charges.
When the trial period concludes, the payment method you registered during the signup process will be charged. You retain the flexibility to pause, cancel, or modify your subscription whenever you wish by logging into your account.
Where is my Monster Job Posting advertised?
Your job advertisement becomes visible to potential candidates on Monster.com, as well as across our extensive network of partner websites and our mobile application.
What does "cancel anytime" mean on Monster?
You have the flexibility to terminate your plan at any point through your account preferences. In the case of both Premium and Standard Plans, you can continue utilizing your plan as long as there are unused days within your ongoing 30-day cycle.