Hello, everyone, and welcome to my blog, I will explain the X-RAY Google search, how to use it on Google, and its use in Recruitment.
If you are not aware of Google's X-ray search, then you are missing a lot of information on Google. So this blog is not only for recruiters but for all internet surfers.
So I would like to stick here for a few minutes and discover the magic of "Google X-ray search," and we can use operators to fetch the exact results from Google and save our precious time.
What is Google X-RAY Search?
We use X-Ray search, also known as Boolean search, to find highly relevant and precise results from websites by combining phrases, keywords, and symbols in the search bar. So, what exactly is Google X-Ray? To put it succinctly, it is the use of Boolean search strings on Google.
Uses Of Google X-ray Search for finding:
Resumes and CVs
Specific files like .pdf, docs
Candidates from a specific location
Contact details
Before I go deep into Google X-ray search, let's understand what exactly it is. Google X-Ray Search is a technique that uses Google's powerful search capabilities to explore LinkedIn profiles more comprehensively.
By leveraging Google's extensive index of web pages, including LinkedIn profiles, you can access a treasure trove of data that might not be readily available through LinkedIn's native search.
This method enables you to perform highly targeted and precise queries, giving you an X-ray vision of LinkedIn's vast professional network.
You can dig out any information or data that you may not get with a normal Google search.
In an X-RAY search, you can collect candidate information from Google, such as a candidate profile and a candidate list. You can do this effectively by using Google.
When searching for "Java Developer" on Google, you will find various interpretations, articles, and job listings related to Java Developer.
However, it may be challenging to find a well-matched resume specifically tailored to this role. Now let's see what useful boolean operators we're going to learn today in this article.
You may also read
Boolean Operators
| Boolean operators | Use | Example |
| --- | --- | --- |
| AND | Results include all keywords linked with AND | developer AND android |
| OR | Results include either keywords or all of them | Java OR Python |
| NOR (-) | Excludes a keyword from your search (Mention without a space before the unwanted term) | -ReactJS |
| Bracket () | Group multiple search strings and set priorities | Manager OR Director |
| Quotation Mark "" | Search for an exact phrase (Consider keywords in quotation marks as a whole word) | "Java Developer" |
| -site: | Exclude a website from the search | -site:LinkedIn.com |
Google X-Ray Search Examples
AND
If you enter "AND" between two keywords, then both keywords must be present on that website, and Google will show that website the same way.
Suppose you are searching for an apple that should be green in color and should be from California.
Then Google's X-ray search should be like this: apple, green AND California
You will get exactly the same result that you are searching for. Try this method and let me know if this is helpful.
OR
You can use the "OR" operator in the "OR" operator, if there are two keywords if you enter OR in between two keywords if any website contains any keyword out of those two then that website will be shown.
This operation is used for option purposes. In case you are searching for an apple but it should be from California or Michigan.
So your X-ray search will be like Apple AND (California OR Michigan)
NOT (-)
Similarly, you can use a NOT or negative sign or "minus" sign (-) if you do not want any keyword. You can utilize any website to extract candidate data as long as the website has made its data public.
Let me show you some examples then you will clearly understand the topic that what I am trying to explain and how to do this X-RAY search.
Let me show you the Google X-RAY search for LinkedIn I am just giving you a simple example you can do an advanced search, also let me show you if I just enter a recruiter.
""
"" is a very important operator for boolean search. It is used when we search for 2 or more words combined. This operator helps you to fetch precise information from Google.
example: "Java Developer", "Green Apple"
Site:
If you search using X-RAY in the right way, Google will find suitable profiles for you. In order to do this, you need to use some advanced search techniques, such as using the "site:" operator with the specific site you want to search on.
Google can help you gather information from specific websites if you use the "site:" command followed by the website name. This can be useful for extracting candidate profiles.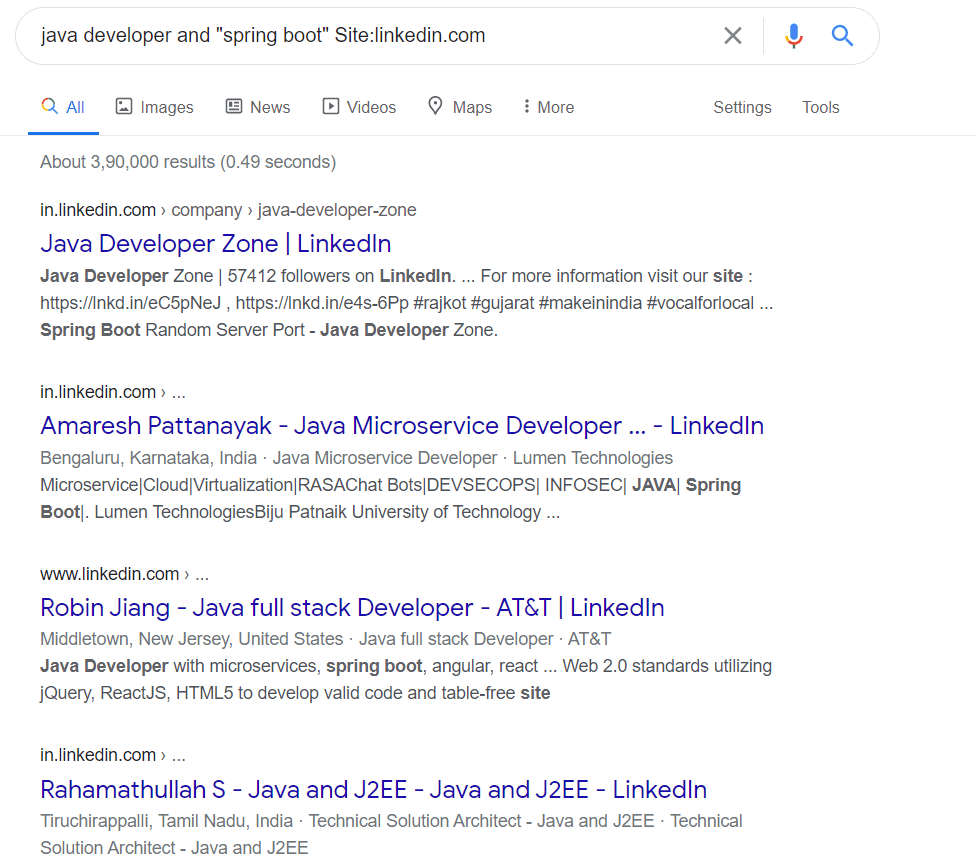 I have mentioned some advanced Google search tips that will help you gather information more precisely. You can fetch any hidden information you need.
Tip #1 Intitle:
You need to use additional codes, just like this. When you use a title after the `intitle:` command, Google will compare that title with the website titles and provide you with matching results.
Example: intitle:best apples in California
Tip #2 Inurl:
You can use the "inurl:" operator to search for websites with a specific word in their URL. Simply type "inurl:" followed by the word you want to search for, and the results will show websites whose URLs include that word.
Similarly can search for URLs if you want to see some results in URLs.
Tip #3 Filetype:
For example, if you're looking for PDF files related to a specific topic, you can use the following search query:
site:example.com filetype: pdf topic
Replace "example.com" with the specific website or domain you want to search within, "pdf" with the desired file extension, and "topic" with your specific search keywords.
This will instruct the search engine to only display results from the specified site and show PDF files related to the given topic.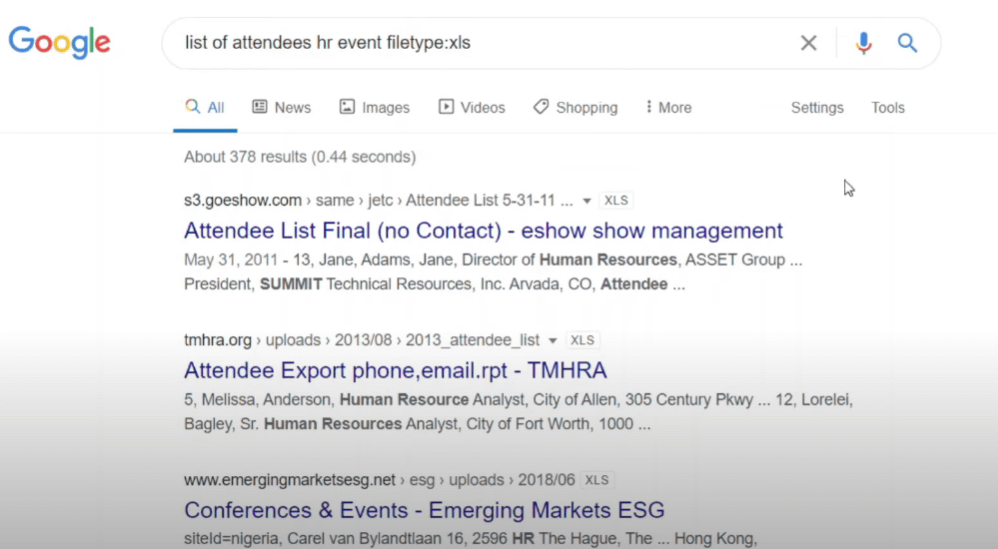 FAQs
How do you use the Boolean search on Google?
It's actually fairly straightforward. To get more relevant results, you go to Google and type in your keywords, as well as a few other words and symbols. The cornerstone of the Boolean search is made up of these additional words (called operators) and symbols (called modifiers).
What is Flip Search in Recruitment?
You can use Flip Searches to identify pages that link to a domain name. To identify pages that link to your target domain, you're essentially 'flipping' backward. If you're looking for candidates from a specific educational institution, company, or social media platform, this search is ideal.
Does LinkedIn support Boolean logic?
Yes
Does Boolean work in Google?
Boolean methods can be used on any search engine, like Google, LinkedIn, or even Facebook.