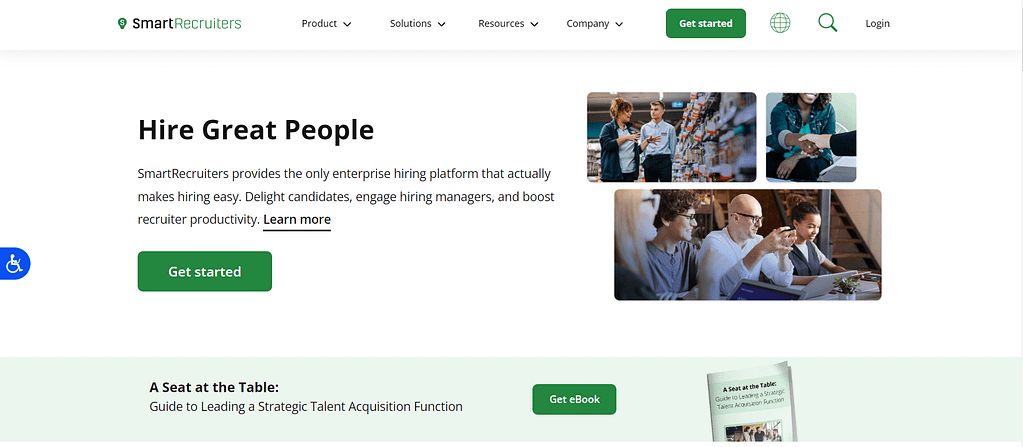 What is SmartRecruiters?
SmartRecruiters is a cloud-based recruitment management platform that helps organizations manage their entire hiring process. It offers features such as job posting, candidate sourcing, resume management, applicant tracking, and onboarding, among others.
The platform is designed to streamline recruitment and improve collaboration between hiring managers, recruiters, and candidates.
SmartRecruiters Reviews
Advantages of Smartrecuiters ATS
SmartRecruiters Pros and Cons
Pros
User-friendly interface: The platform is easy to use and navigate, making it simple for organizations to manage their recruitment processes.
Customizable: SmartRecruiters allows organizations to tailor the platform to their specific needs, including customizing the application process and automating tasks.
Integrations: The platform integrates with various job boards, social media networks, and other sources, making it easy for organizations to access a large pool of candidates.
Collaboration: SmartRecruiters provides tools for enhanced collaboration between hiring managers, recruiters, and candidates, improving the overall efficiency of the recruitment process.
Reporting and analytics: The platform provides reporting and analytics capabilities, enabling organizations to track the progress of their recruitment efforts and make data-driven decisions.
Cons
Limited customization options: While the platform is customizable, some users have reported that certain features or processes cannot be customized to their specific needs.
Steep learning curve: The platform may take some time to learn and become familiar with, particularly for organizations that are new to using recruitment management software.
Limited customer support: Some users have reported limited availability or responsiveness of customer support, which can be a hindrance for organizations that need assistance with using the platform.
Cost: SmartRecruiters can be relatively expensive compared to other recruitment management solutions on the market, which may be a concern for organizations with limited budgets.
SmartRecruiters Features:
SmartRecruiters Vision
Their simple goal is to make hiring easy. They aim to help businesses acquire the talent they need to succeed and assist individuals in finding a job they love.
Like many others, they understand the frustration that arises from the difficulty of finding exceptional talent. They empathize with this shared sentiment.
They acknowledge that the recruiting process is currently fragmented and opaque, plagued by outdated technology that dissuades both candidates and hiring managers.
However, they envision a world where finding outstanding candidates is effortless, where expressing interest in job opportunities is simple, where collaboration among hiring teams is streamlined, and where accessing recruiting vendors is just a click away.
They didn't stop imagining this ideal scenario. They took it upon themselves to turn it into a reality.