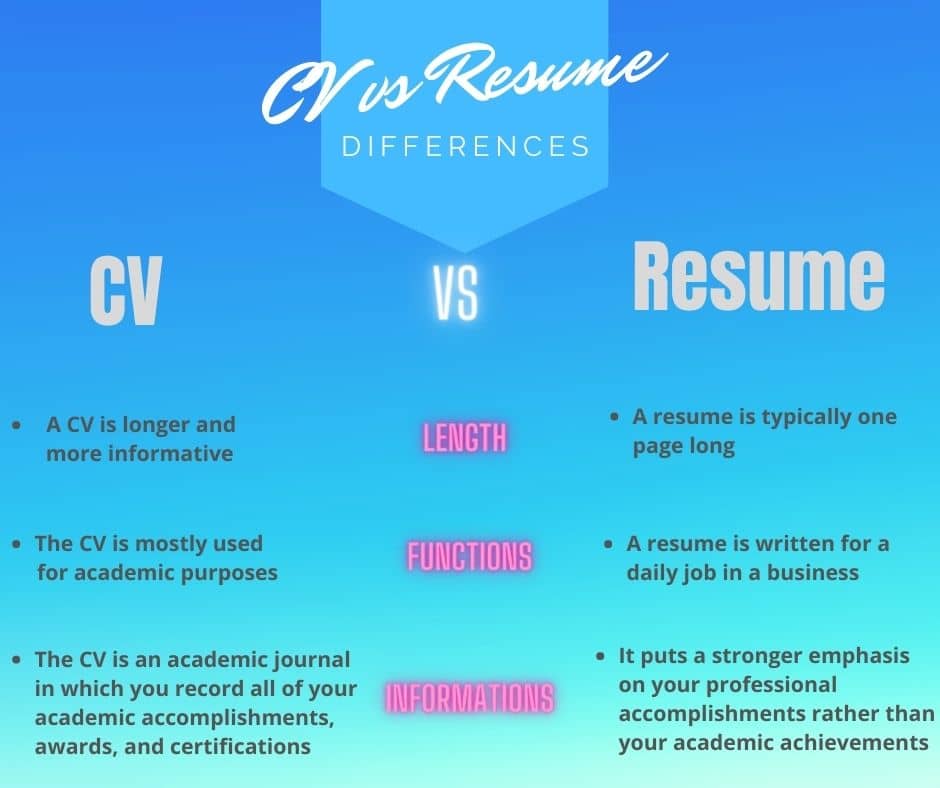 Difference Between CV vs Resume (curriculum vitae) Explained
You've most likely heard of a curriculum vitae (CV) before. It's often used as a substitute for a resume. In some, it seems to be something entirely different.
So what is the difference between a CV and a Resume?
What is a CV (curriculum vitae)?
The phrase curriculum vitae comes from the Latin word curriculum vitae, which means "the path of your life."
A CV is a comprehensive document that outlines your career path in detail and contains a number of personal details. You can think of your CV as a detailed list of all you've ever done, all of your proudest accomplishments, and all of your publications.
Any time you achieve a new academic or professional goal, you can update your CV. To put it another way, if you get new work, publish something new, get a new certificate, and so on.
You may also read: 9 Tips and Examples for Writing a Killer Career Objective in Resume
What a CV should Include?
What is a Resume?
A resume is a brief, to-the-point document designed to be submitted with an application for a particular work.
A resume, unlike a CV, should be kept as brief as possible. In 99 percent of cases, your resume should be no more than one page long. You should make it two pages tops if you have 15+ years of experience or really feel that the additional details you can provide would add value to your application.
Only include elements of your professional experience and skills in your resume that are important to the job you're applying for. A successful resume emphasizes concrete achievements you made in previous jobs and shows how your various skills can be applied to the position you are applying for.
You may also read: 5 Proven Strategy to Write a Winning Resume
What a resume should include?
Difference between CV and resume
| CV | Resume |
| --- | --- |
| The first and most noticeable distinction between a CV and a Resume is the Length of each. | A resume is typically one page long, while a CV is longer and more informative (it can go up to 2-3 pages depending on your experience). |
| The CV is mostly used for academic purposes, such as applying for a doctoral program, a Ph.D., or being a member of a university's faculty. | In contrast, a resume is written for a daily job in a business. |
| The CV is an academic journal in which you record all of your academic accomplishments, awards, and certifications. It has a common appeal because it can be revised on the fly. | A resume, on the other hand, must be written (or at least customized) for and position you apply for, and it puts a stronger emphasis on your professional accomplishments rather than your academic achievements. |